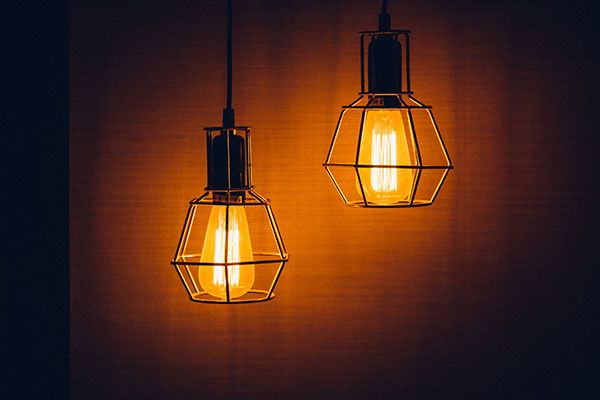 We often take lighting for granted. Outside, we rely on the sun to light our way during the day, and we may bask in the romantic beams of the moon at night. When it's dark, we flip the switch and go on our way. For the most part, we think of light as being functional and little else. We need to see, so we turn the light on. That may have been the case in the bare-bulb and candle days of yore, but lighting has evolved in so many ways since then.
Lighting, properly chosen and installed, can make your personal living space more functional, more comfortable, and more beautiful. There are fixtures and lighting elements to suit every use of every room. Whether you are working, entertaining, relaxing, reading, or even bathing or cooking, lighting — from the smallest nightlight to the most extravagant chandelier — can make a difference in your comfort and mood level.
Bulbs are the basic building blocks of lighting — Without them, there is no light. There are four basic types of bulbs: incandescent, fluorescent, halogen, and light-emitting diode (LED). They differ in suitability, cost, and lifespan. They are not necessarily interchangeable in certain fixtures and conditions, e.g., indoor, outdoor, closed or open fixtures, dampness, etc. Be sure to check the manufacturer's specifications on fixtures and bulbs.
Besides creating ambience, lighting the task space, and creating general lighting, bulbs and fixtures provide a simple measure of security. Leaving a few indoor lights on when you are away can deter burglars. Even more so, do not neglect the need for outdoor lighting. Walkway lights are not only a safety feature for night visitors — they are also decorative accents. They can be solar-battery-powered or hard-wired. Lamp posts and entryway lights provide safety and act as deterrents to sneaky people. Motion-activated lights around the perimeter of the house trigger when something moves in their path, providing safety and security without the expense of having lights lit all night long.
Whether you spend your time indoors or out, working or resting, eating or sleeping, there is a multitude of lighting options to choose from. Whatever you choose, Stoney Creek Contracting can guide you and install the perfect fixtures for your remodel or construction.
With over 20 years of experience in construction and remodeling projects, you can have the confidence that Stoney Creek Contracting will get the job done. We do projects large and small, from repairs and installations to complete house remodels. We at Stoney Creek Contracting pride ourselves in quality residential remodeling projects and construction. Licensed, bonded, and insured, we go the extra mile to maintain a clean work area and provide courteous service. Call us at 610-927-7313 for your free estimate for a basement, kitchen, bathroom, or flooring project. We also do windows, siding, and other exterior projects. You can also submit a contact request here.