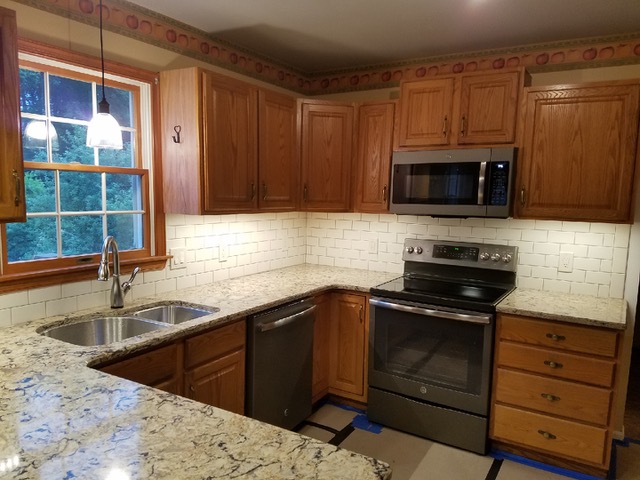 Holiday times in the Reading-Berks County area focus on gatherings with family and friends. Family and friends usually focus on food, and food calls attention to kitchens. It may be that all this attention has caused you to consider upgrading or renovating your kitchen area. A project of this magnitude requires creativity on your part and skilled craftsmanship on the part of a local contractor, such as Matthew Hertzog at Stoney Creek Contracting.
Beyond the basics of major appliances, plumbing, and electrical work, the final outcome of your kitchen makeover is limited only by your preferences and budget. Small spaces can be remodeled with big style, and large spaces can be regally apportioned and yet practical. Following are some tips to remember when remodeling that central hub of hunger in your house.
The main function of the kitchen is meal prep. If the kitchen is not laid out thoughtfully, cooking will be more of a chore than necessary. Make sure everything you generally need is at hand so you don't have to trek all around the kitchen to find the utensils, tools, and spices you want. If you have a lot of extra space, consider adding cabinets to house (and hide) your utensils. How large a sink will you need? What type of faucet do you need to fill and clean those large pots and dishes or rinse those veggies?
What about trash receptacles? Should they slide away into cabinets yet be convenient to the cooking area? Do you need a dishwasher?
Countertops come in a wide variety of styles and colors and materials. They should be attractive, yet able to withstand chopping, pounding, slicing, and staining, and be easily cleaned. Yes, the flooring gets its share of food and water and wear and tear as well, and must not be neglected in the planning.
Make sure you do extensive research using reliable sources and reviews when choosing major appliances. Consider available space as well as capacities to meet your family's needs, with an eye on reliability as well.
The kitchen is not just a utility room, like a garage or a shed — It is a place where hard work is done, but it is also a gathering place that needs to generate a friendly atmosphere. The proper selection of colors and materials will add brightness and a feeling of cleanliness and comfort that invites guests to share more than meals — and may inspire them to help out!
With over 20 years of experience in construction and remodeling projects, you can have the confidence that Stoney Creek Contracting will get the job done. We do projects large and small, from repairs and installations to complete house remodels. We at Stoney Creek Contracting pride ourselves in quality residential remodeling projects and construction. Licensed, bonded, and insured, we go the extra mile to maintain a clean work area and provide courteous service. Call us at 610-927-7313 for your free estimate for a basement, kitchen, bathroom, or flooring project. We also do windows, siding, and other exterior projects. You can also submit a contact request here.