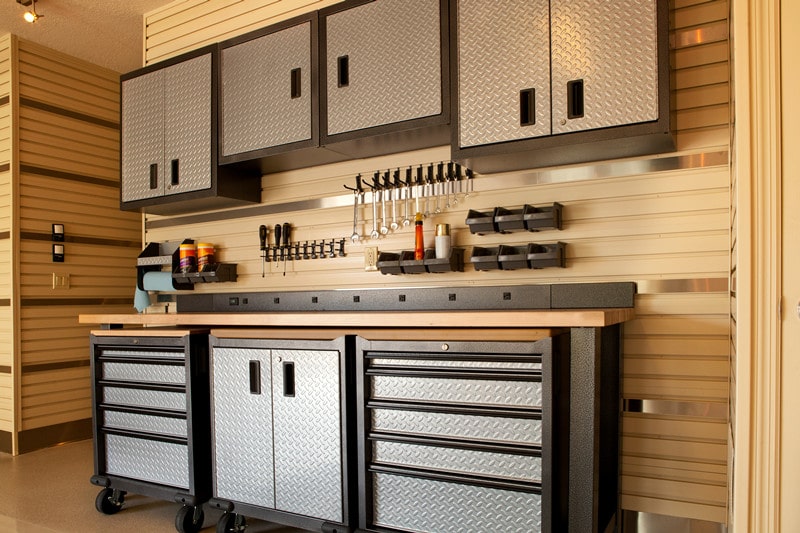 Living in the northeast, Berks County-Reading Area residents can accumulate four seasons worth of outerwear, equipment, toys, and gear. This is on full display in the wintertime with boots, sleds, and snowblowers occupying precious garage space — sometimes with wet jackets and gloves dangling about. Competing for limited space are cold homeowners seeking to shelter their vehicles from outdoor exposure and accumulations of snow and ice. We can all agree that it is better to enter our cars in the clean and semi-warm space of the garage instead of scampering across the ice to warm up a frigid vehicle. As you long for the spring thaw, you should plan for spring cleaning, and consider having a garage organization system installed. A properly-installed garage storage system can bring order to your accumulation as well as free up space for other items — like maybe your car!
Garage storage systems come in many forms. They are not necessarily just shelves on the walls — They can consist of cabinets, shelving, and storage areas that are ready for installation, or they could be custom-made items designed, built, and installed by Stoney Creek Contracting. Click here for a tour of home and professional storage solutions.
Stoney Creek Contracting can also help with the general design and placement of your chosen garage storage system. We can also custom-design systems for you, and even remodel, repair, and expand your garage space. And, if there just isn't enough room in your garage for everything, Stoney Creek can design and build a shed for you.
With over 20 years of experience in construction and remodeling projects, you can have confidence that Stoney Creek Contracting will get the job done. We do projects large and small, from repairs and installations to complete house remodels. We at Stoney Creek Contracting pride ourselves in quality residential remodeling projects and construction. Licensed, bonded, and insured, we go the extra mile to maintain a clean work area and provide courteous service. Call us at 610-927-7313 for your free estimate for a basement, kitchen, bathroom, or flooring project. We also do windows, siding, and other exterior projects. You can also submit a contact request here.