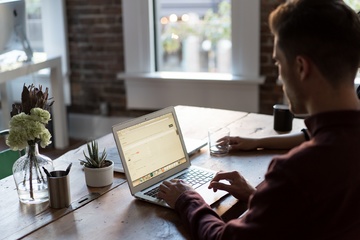 As restrictions related to COVID-19 continue to blanket the Reading area, schools close and open and close, and businesses follow suit, creating logistical nightmares for most families. The words "home office" used to sound like a contradiction, and homeschooling is becoming an unintended reality for families with children. Many employees are working from home, and many children spend some or all of their time learning at home. This has impacted the use of home spaces and may go on for a long time. How can Berks County families adapt to these changes? How can homes be ready for work and play and comfort?

Homes spaces, as well as attitudes, schedules, and routines, need to be adapted to this current situation. Where do I plug in my computer? How do I find a quiet space? Where can the kids spread out their books and crafts? How can I silence the refrigerator so it stops calling me? Following are some suggestions.

First, find a space. Perhaps you have an extra room, basement or attic space, or a rarely-used room that can be converted. Perhaps some slight modifications would be needed, and Stoney Creek Contracting can certainly help with that. Think about your surrounding conditions, like lighting, temperature, and distractions. Stoney Creek can help with new windows, doors, and other modifications.

Make sure you set boundaries: work is work, school is school, home is home. Don't let bills and paperwork get mixed up, or chores interfere with schoolwork. Perhaps set a timer and dedicated chunks of time to each project. Have a routine, like waking and starting hours, breaks, and other non-personal times, just as if you were at work or school.

Storage spaces can help you keep things separate and out-of-sight. Maybe some shelves or cabinets or a small closet will do it for you. Don't forget space to hang your student's artwork and display his or her prize assignments!

Don't forget other considerations, like electricity. Are there adequate outlets for computers, TVs, lamps, peripherals, tools, etc.? Having to swap cords all the time will get tiresome after a while. Stoney Creek can install or move outlets.

Whether you need a few changes or an entire remodel to get you through these changing times, Matthew Herzog and his team can take care of them. Stoney Creek Contracting prides itself in quality residential remodeling projects and construction. Licensed and insured, we go the extra mile to maintain a clean work area and provide courteous service. Call us at 610-927-7313 for your free estimate for a basement, kitchen, bathroom, or flooring project. We also do windows, siding, and other exterior projects. You can also submit a contact request here.