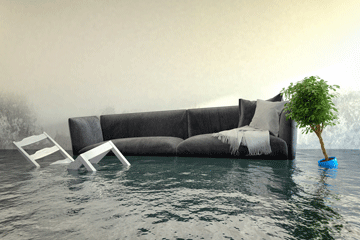 Having a Backup Plan for Unplanned Backups
Dateline 2019 — The Lehigh Valley has experienced the wettest spring on record — the clouds have delivered several record-breaking daily rainfalls this year, and the season isn't over yet! April showers may bring May flowers, but they also bring mold, mildew, and flooded basements. No one wants an unintended indoor pool, and water damage can be not only annoying, but dangerous and unhealthy. Removing the glop that used to be your furniture and rebuilding your basement are huge chores, but Stoney Creek Contracting can bail you out.

Rainwater is not the only threat to your basement; sewers can back up and create an unholy, unhealthy mess. Backups are often caused by disposing of materials that do not readily break down, such as paper towels, sanitary products, baby wipes and diapers, and other heavier materials. Rainwater seepage and flooding can be triggered by water pooling under cluttered downspouts and melting ice in gutters that cannot get down the downspouts. Cracks in foundations invite seepage, and window wells can fill with water that finds its way in.

What to do if the basement floods? Safety should be your first priority, so here are some suggestions:

Turn off circuit breakers and contact an electrician to check for electrical dangers.
Wear protective clothing (boots, eyewear, etc.) if you enter the flooded area, especially if there may be sewer leakage.
Remove as many items as possible to a dry area.
Contact a licensed plumber to evaluate any plumbing problems.
Contact your insurance company and document what you can.
Call Stoney Creek Contracting for a free consultation and estimate for repairing and remodeling your basement.
Seepage and floods make a mess of everything, and it takes a professional to clean up, repair, and restore your beautiful home. Matthew Hertzog and his crew make it their business to make you feel at home again.
Stoney Creek Contracting prides itself in quality residential remodeling projects and construction. Licensed and insured, we go the extra mile to maintain a clean work area and provide courteous service. Call us at 610-927-7313 for your free estimate for a basement, kitchen, bathroom, or flooring project. We also do windows, siding, and other exterior projects. You can also submit a contact request here.