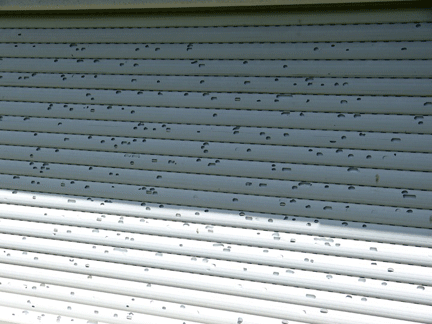 How to Handle Hail Damage Without Putting a Dent in Your Budget

On May 29, 2019, a severe storm rolled through southern parts of Berks County and the Lehigh Valley. Stoney Creek Contracting recommends that homeowners thoroughly check their properties for damage and call an expert for proper assessment.

You have probably heard about "hail the size of golfballs" or "moth balls" or whatever is the current designation. Hopefully, you have never heard the sound of hail hitting your house, but if you have, we have the remedy.

The weather in the Lehigh Valley and surrounding area has been particularly harsh lately, and many homeowners and businesses have sustained damage from local hailstorms — and even tornados — including cracked windows, dented siding, flooding, wind damage, and worse. After such a storm, you will no doubt want to walk around your property and assess the damage. Be very careful of broken glass, downed power lines, and other hazards!

If you have been a victim of hail or any other weather damage, as a first step, we recommend that you check with your homeowner's insurance to see if hail damage is covered under your policy. If so, your insurer can assess the damage and determine any compensation. Make sure you document any and all contacts with your company, as well as clearly photograph the damaged areas.

Some damaged areas, such as gutters and the roof, may be difficult to see. It pays to have an expert who offers free estimates come and look over your property so there are no surprises.

No matter the extent of your damage, Matthew and the professionals at Stoney Creek Contracting can handle whatever harm the hail has dished out. In fact, perhaps this could be the inspiration to start that remodeling project you have been putting off. Matthew can help you decide what your next steps should be, while seeking to work within your budget.

Stoney Creek Contracting prides itself in quality residential remodeling projects and construction. Licensed and insured, we go the extra mile to maintain a clean work area and provide courteous service. Call us at 610-927-7313 for your free estimate for a basement, kitchen, bathroom, or flooring project. We also do windows, siding, and other exterior projects. You can also submit a contact request here.