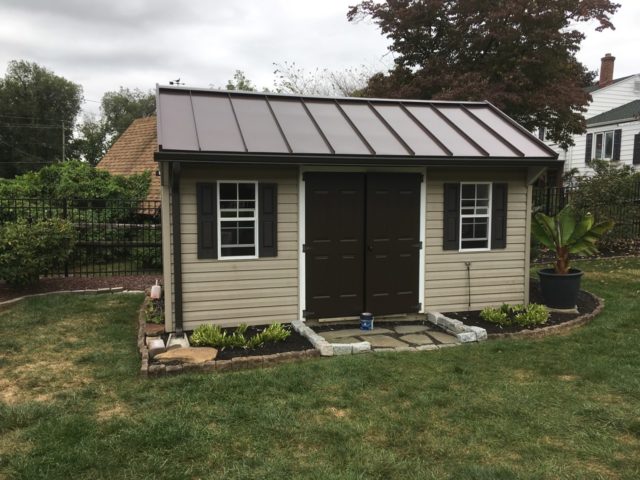 The Advantages of Metal Roofs
Some of us like to hear the sound of rain on the roof. It can be relaxing and comforting. Have you thought about how your roof likes the rain? Even more important, is your present roof allowing the rain to drop in for an unwelcome visit? Is it time to replace your roof?
While you are thinking about it, think about having Stoney Creek Contractors install a metal roof, whether on your house, garage, shed, or other outdoor building. Metal roofs have many advantages over standard shingle roofs. Metal roofs can be an attractive option because of their longevity, minimal maintenance, and energy efficiency. And you can choose from tin, zinc, aluminum, copper, or galvanized steel — whatever conforms to your local code requirements.

According to sources, metal roofs are known for being

long-lasting Metal roofs can last 40-70 years, depending on the material. Traditional asphalt roofing materials have an estimated life expectancy of roughly 12-20 years.
durable Some metal roofs can sustain wind gusts up to 140 miles per hour, will not corrode or crack, and may be impact-resistant (depending on which metal you choose). In addition, metal roofs don't need the periodic costly maintenance that other roofing materials often require. However, they should be inspected periodically to make sure no repairs are required.
safe Metal roofs will not spark and ignite into flames during a wildfire or lightning strike.
energy efficient Metal roofs reflect solar radiant heat, which can reduce cooling costs by 10-25%.
environmentally friendly Metal roofs not only have 25-95% recycled content, depending on the material used, but are also 100% recyclable at the end of their life as a roof. In contrast, most shingle tear-off waste ends up as part of the building-related waste stream — up to 20 billion pounds per year.
Before the next rainstorm turns your attic into a swimming pool, call Matthew at Stoney Creek Contracting for more information. Stoney Creek Contracting prides itself in quality residential remodeling projects and construction. Licensed and insured, we go the extra mile to maintain a clean work area and provide courteous service. Call us at 610-927-7313 for your free estimate for a basement, kitchen, bathroom, or flooring project. We also do windows, siding, and other exterior projects. You can also submit a contact request here.