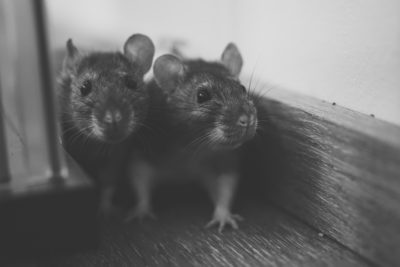 Summer is a favorite time for inviting guests over for meals and even overnight stays. Presumably, these are people whose company you enjoy. 'Tis also the season for uninvited guests whose company you don't enjoy — bugs and little critters. Colonies of little insect families, as well as rodent siblings, are growing, and they need a place to eat and sleep — and property boundaries and locked doors mean nothing to them.
Fall is also a prime time for infestation because bug and beast alike are looking for warmth and protection. We recommend checking your house and property for several conditions as the weather changes to deny these unwelcome pests entry into your home.
Screens should let in only air and sunlight, not bugs. Make sure screens fit tightly and have no holes. Also, check for cracks around windows and loose-fitting panes.
Insects laugh at locked doors when there are gaps around the frames and thresholds. If you can see daylight around the frame or door, bugs can see welcome signs.
Look all around the outside of your home. Insects and critters are expert at finding cracks and crevices in siding, foundations, walls, eaves, fascia, and elsewhere. Loose or missing weatherstripping allows more than just cold air to enter your home.
Uncapped or damaged chimneys allow smoke to go up and bugs, bats, and birds to come down.
Garages are fine for parking cars, but ill-fitting doors and windows invite insects to park their nests.
Clean gutters not only keep them from overflowing — they also deny bugs the decaying vegetation they love to dine on and live in.
Utility lines and pipes serve as bridges for bugs and other pests that will enter where the lines meet the house.
Do you have plants that touch or overhang the house? If there are plants touching the house, there are possibly insects, raccoons, squirrels, and mice touching it as well.
Before you bring in outdoor furnishings, decorations, plants, hoses, and other seasonal items, look for nests, eggs, and webs. Spray them with a jet of water to dislodge them and scare them silly.
Inspect exhaust fans, dryer and other vents, and other places that open to the outside to make sure there are no cracks or loose fittings that, to a bug, open to the inside.
Some pests like basement apartments, some like penthouses, so check the house from cellar to attic. No doubt bugs and beasts are checking out your house as well! Whether you find problems in the attic or basement, inside or out, large or small, Matthew Herzog and his team can take care of them. Stoney Creek Contracting prides itself in quality residential remodeling projects and construction. Licensed and insured, we go the extra mile to maintain a clean work area and provide courteous service. Call us at 610-927-7313 for your free estimate for a basement, kitchen, bathroom, or flooring project. We also do windows, siding, and other exterior projects. You can also submit a contact request here.