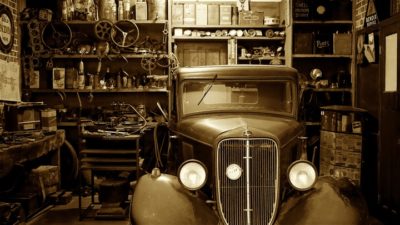 The word "garage" comes from a French word meaning, "to moor a boat or shelter or protect merchandise." When we think of a garage, we think of a place to keep the car. However, the car may be about the only thing that isn't in the garage.

Many of us store paints, tools, lawn and garden equipment, laundry and other appliances, shelves, and those musty things in the corner that no one remembers what they are. In the meantime, the car sits outside, battered by the elements. This may be a good time to consider remodeling or expanding the garage, or building a new one — or maybe your first one.

There are many things to consider when remodeling or building a garage — things that might not seem so obvious at first. For example: Sure, the car fits through the garage door, but what happens once you get inside and open the car door to get outside the car? Will the garage door open high enough to accommodate the Christmas tree or canoe or carrier you carry on the roof? Once the car is parked in the garage, how do you get the lawnmower or snowblower back in without pulling the car out first? Where do you store the seasonal stuff you only use during a particular time of year? These are just some questions to answer when thinking about building or remodeling a garage. Keep in mind the intended purpose of the structure, and anticipate future storage needs.

Some extras to consider include a smaller entrance in the back wall for lawn equipment; floor drains; some type of heating system; plumbing; and sufficient electrical outlets. You can also construct a storage area above the garage (or an extra personal room). You don't want to kick yourself (or your car) later on when you run out of space or electrical outlets or bang into "stuff" when you get out of the car with a bag of groceries or some luggage.
It's always wise to consult an expert when it comes to building and renovations. With 20 years of experience in construction and remodeling projects, you can have the confidence that Stoney Creek Contracting will get the job done. We do projects large and small, from repairs and installations to complete house remodels. We at Stoney Creek Contracting pride ourselves in quality residential remodeling projects and construction. Licensed and insured, we go the extra mile to maintain a clean work area and provide courteous service. Call us at 610-927-7313 for your free estimate for a basement, kitchen, bathroom, or flooring project. We also do windows, siding, and other exterior projects. You can also submit a contact request here.