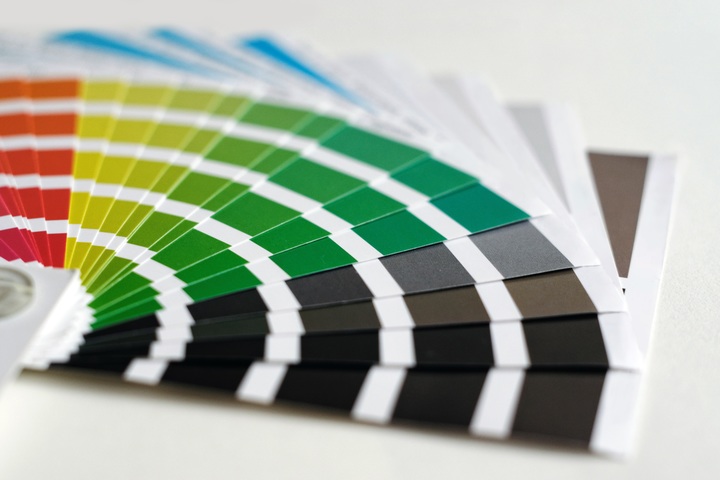 Few things liven up a room or exterior as simply and easily as a new coat of paint. However, choosing the right paint entails more than just choosing the right color. There is a wide variety of types and finishes from which to choose, based on the project. The atmosphere you are trying to create, the quality of your paint job, and the durability of your project, all depend on those little cans of paint. Even the size of the room and its location factor into the decision. A purchasing mistake can be costly and very annoying.

Paint retailers will supply you with color samples you can take home to hold against your walls or whatever is being painted. You can use the swatch under different lighting conditions and locations to get an idea of how the paint will look under different circumstances, and how it matches or accents other items in the room. Once you've selected the color, the next step is to decide the type of paint (oil- or water-based) and the sheen (matte, eggshell, satin, semi-gloss, gloss).

Primer is a must to seal the surface, cover old paint and stains, and help the new paint stick. It can save you the need to apply a second, more expensive coat of new paint later.

Water-based, or latex, paints are the most popular because they dry faster, clean up more easily, and have less odor than oil-based paint. However, they can be more expensive and not quite as durable. Water-based paint finishes are "flexible" and resist cracking.

Oil-based paints are more durable and have a richer finish. They are usually used for trim and baseboards that endure more contact than walls. They take longer to dry and have more of a noxious odor, but their quality will last longer than latex paint. Special solvents are needed to clean brushes and unwanted drippings.

There are specialty paints for ceramic fixtures, rusty railings, high-heat uses, appliances, etc., but we are focusing on typical indoor applications.

Finishes range from non-reflective to very-reflective. Matte finish is least-reflective, has a velvety texture, and the highest color depth. It helps to hide imperfections. Eggshell and satin paints are slightly more reflective and are used in areas that need frequent cleaning without a glossy finish. Semi-gloss and gloss are the most reflective and are highly durable. They can be used on trim and doors and for accents when used with lower-gloss finishes. Glossy finishes can reveal flaws in the underlying surface.

Different types of paints have their practical uses, just like different colors have their aesthetic uses. Temperature and humidity extremes, surfaces, room size, lighting, costs, and other factors, will influence your decisions. Before starting any project, seek the advice of an expert.

Stoney Creek Contracting prides itself on quality residential remodeling projects and construction. With 20 years of experience in construction and remodeling projects, you can have the confidence that Stoney Creek Contracting will get the job done. We do projects large and small, from repairs and installations to complete house remodels. Licensed and insured, we go the extra mile to maintain a clean work area and provide courteous service. Call us at 610-927-7313 for your free estimate for a basement, kitchen, bathroom, or flooring project. We also do windows, siding, and other exterior projects. You can also submit a contact request here.