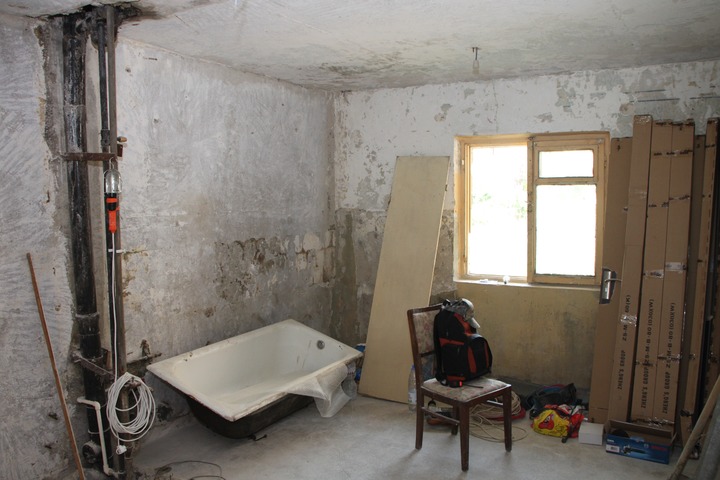 Shelter-in-place rules have a lot of us sitting at home, staring at the four walls (And, maybe, the TV and each other). Perhaps you are beginning to notice things you haven't seen before — a crack in the wall; peeling wallpaper; that water stain on the ceiling; paint that's fading; windows that leak or are just too small to flood the room with cheery sunshine; boring old fixtures; and a host of other items that either skipped your attention or slipped to the bottom of your to-do list. Now may be the time to do something to change up your surroundings.

Think about how nice it would be to put in a new bay window to let in the light and broaden your horizons! A new, stronger, tighter door would make you feel safer and more comfortable in the changing weather. Looking at paint and wallpaper samples can be refreshing and add a splash of color and variety to your rooms.

What about some new bathroom and kitchen fixtures? Or at least some repairs to the leaky faucet? Summer is for barefootin', and a nice carpet or new flooring would sure feel good under your feet. Stepping out onto a new deck or patio would be a nice change of pace, and you wouldn't even need a mask!

Winter may have done a number on your old roof, and spring rains have a nasty habit of finding those loose shingles and sneaking into your attic. While you're at it, take a look at your basement to see if there is any mold or cracks or rodent damage. Or even the possibility of turning it into a rec room or bedroom or family room or sewing room or craft room or, or, or.

Time to get the gardening supplies out of the shed and garage. Perhaps they can use a bit of work as well. Let's not neglect them.

The combination of spring and summer preparations and more time spent at home due to the pandemic makes this the perfect time to assess the state of your property and make plans to fix and fix up your home environment. It's the perfect time to call in Matthew Hertzog and his team of seasoned experts for an estimate and some sound advice.

With 20 years of experience in construction and remodeling projects, you can have the confidence that Stoney Creek Contracting will get the job done. We do projects large and small, from repairs and installations to complete house remodels. We at Stoney Creek Contracting pride ourselves in quality residential remodeling projects and construction. Licensed and insured, we go the extra mile to maintain a clean work area and provide courteous service. Call us at 610-927-7313 for your free estimate for a basement, kitchen, bathroom, or flooring project. We also do windows, siding, and other exterior projects. You can also submit a contact request here.