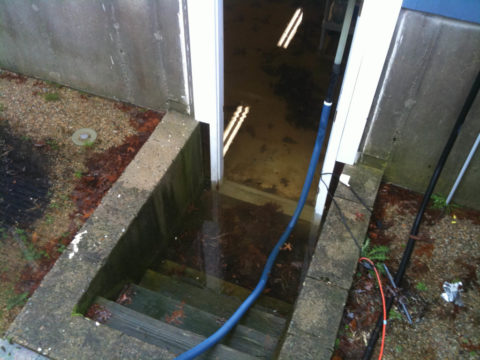 April showers bring May flowers, but they may also bring wet basements. If you sense a musty smell that is not coming from your laundry pile or that old recliner that he can't give up, it may be caused by a damp or wet basement.

Because basements are generally built below the grade of the surrounding land, water tends to collect around the walls and can eventually seep into the room. You may find some dampness in the walls or floor, an occasional puddle, or even flood conditions. Damage can range from peeling wallpaper and paint to mold and mildew to rotting wood and damaged furnishings and other items.

Houses can eventually settle, causing cracks in the walls, through which water can seep, especially during rainy seasons. As the invading moisture evaporates, it creates that telltale musty smell that spells trouble. Depending on the severity of the problem, the fix can be as simple as running a dehumidifier, or as drastic as major repairs.

Damp basements can put a damper on planned renovations to that basement and any other areas that can be affected by mold, mildew, and damaged wood. At the first signs of seepage, consult an expert to assess the situation and suggest the appropriate remedy. If the problem remains unattended for too long, it can cause structural damage to the home that could cause more severe problems in other areas of the house.

If you suspect leakage problems, give Stoney Creek Contracting a call to assess the situation.
With 20 years of experience in construction and remodeling projects, you can have the confidence that Stoney Creek Contracting will get the job done. We do projects large and small, from repairs and installations to complete house remodels.We at Stoney Creek Contracting pride ourselves in quality residential remodeling projects and construction. Licensed and insured, we go the extra mile to maintain a clean work area and provide courteous service. Call us at 610-927-7313 for your free estimate for a basement, kitchen, bathroom, or flooring project. We also do windows, siding, and other exterior projects. You can also submit a contact request here.