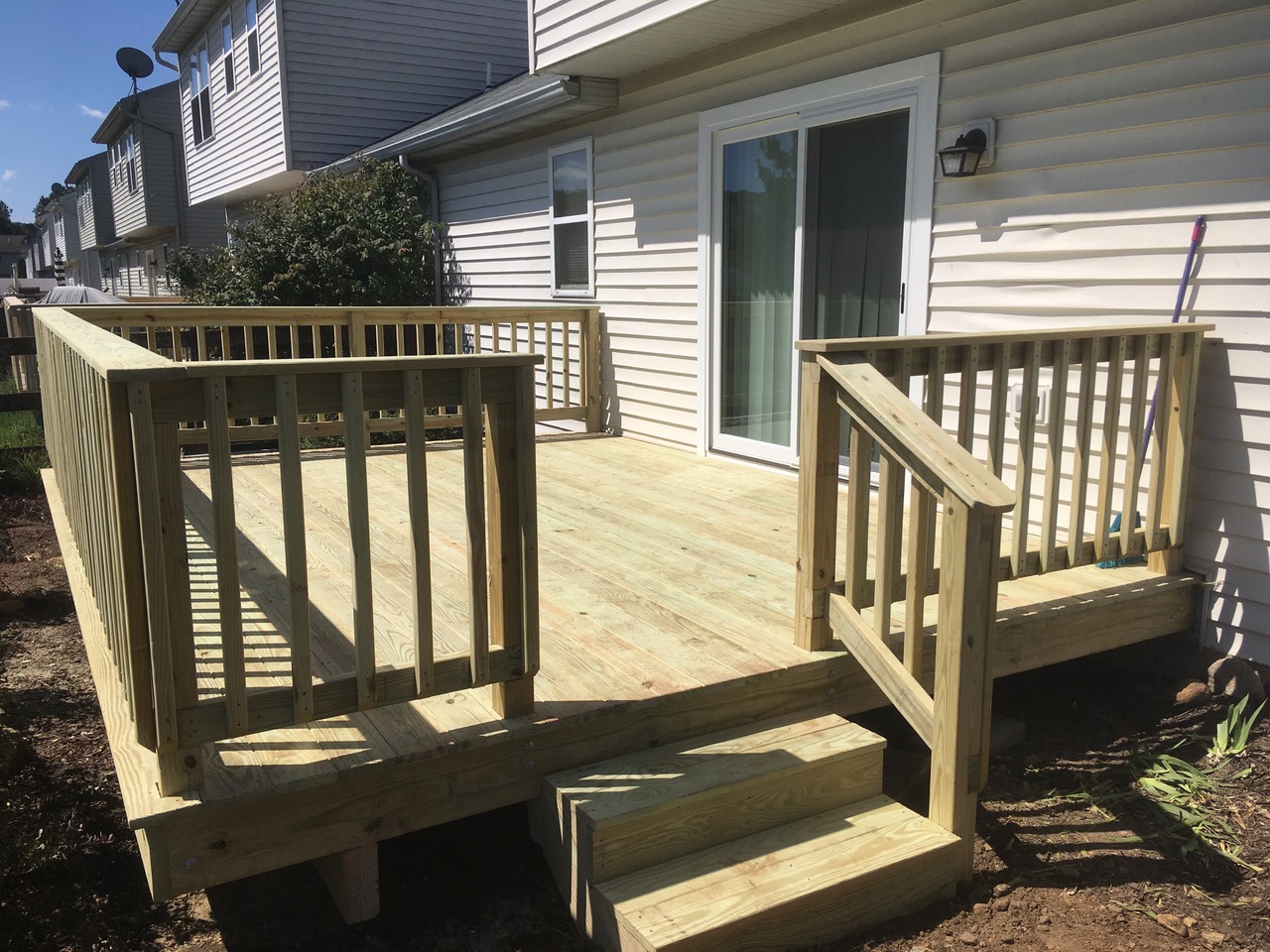 As many Reading-Berks County homeowners sip cold ice tea and enjoy sitting outside, they may notice rotten boards, nail pops, splintering wood, and other evidence of a deteriorating deck. This can be not only unsightly but also dangerous, especially for children, grandchildren, and pets.
Whether you build the deck yourself or contract it out to experts like Matthew Herzog at Stoney Creek Contracting, choosing the right materials is critical to the life of the deck and your overall enjoyment of the change of pace it offers. Your decision will be influenced by your budget, the look you are going for, the climate, and maintenance factors.
Natural woods include cedar, redwood, and tropical hardwoods. These can be expensive and require some laborious maintenance, such as pressure washing and occasional resealing. Wood is prone to fading, cracking, and damage.
A less-costly alternative to natural wood is pressure-treated lumber. This type of wood is chemically-treated to resist the problems that plague wood, such as insects, rot, and moisture saturation. Pressure-treated lumber is easy to work with, but has one drawback: The chemicals in the wood can produce toxic fumes, so it's necessary to power wash the deck every year and apply sealant and stain every few years.
Next up on the deck material ladder is composite decking, a blend of recycled plastic (polyethylene, polypropylene, or PVC) mixed with wood fibers (like wood chips or sawdust). In general, the only necessary maintenance is an occasional scrubbing of any stains (often from inconsiderate birds that fly overhead) and mildew that might accumulate. It can also be slippery when wet. Otherwise, this material is resistant to the problems that plague wood, and it doesn't need staining, sealing, or sanding. More time for relaxing!
Plastic decking has many of the same qualities as composite, but doesn't look nearly as natural, and is certainly not as attractive as natural wood. The colors can also fade and become chalky.
Finally, if you are looking for the least-natural look, there is aluminum decking. Coatings and non-skid surfaces, and resistance to wood-related problems, make this an interesting alternative if you like the industrial look.
When it comes time to build that deck or complete other exterior renovations, give Matthew Herzog a call for a free estimate. His experience allows him to guide homeowners in the selection of materials and components, as well as approaches that work within your budget. You can look forward to being outdoors and playing with a reliable, attractive, deck!