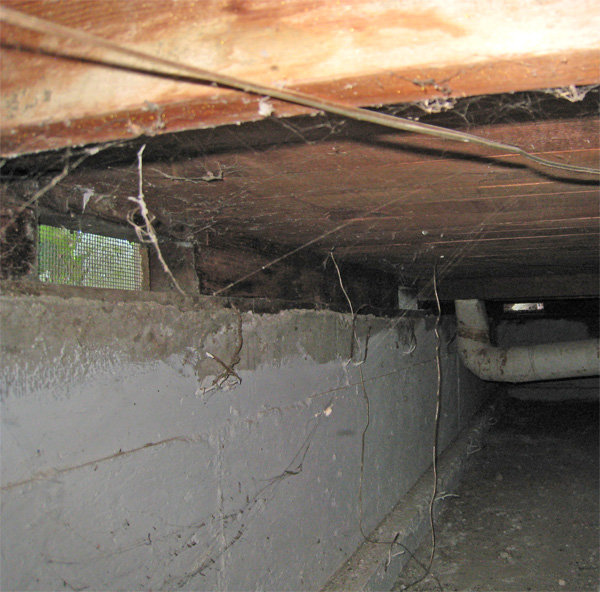 If you are a new parent, you might think of a "crawl space" as a place where you can let Baby run wild. However, a crawl space in the building trade is a place where you would not want your child unless he or she were a plumber or electrician (or vermin exterminator)!

A crawl space is essentially an open area under the first floor of a house. Most people don't even think about a crawl space, but a lot of design goes into them. These spaces are usually just a couple feet wide and tall, maybe more, maybe less — just big enough to crawl into (Surprise!). What's the point of a crawl space?

The crawl space is a convenient place to hide the innards of the house, such as wiring, insulation, and plumbing. This makes repairs potentially easier than digging through a concrete floor or the walls to find and fix issues like mold, dampness, and (Yes), vermin. It also lifts the house off the ground, which has numerous advantages when it comes to flooding, critters, and other threats. Crawl spaces are often vented to allow moisture to escape to prevent mold and mildew. Crawl spaces are much less expensive to build into a new home than a full basement; hence their popularity. They are also more expensive than building a house on a concrete slab, but the benefits outweigh the cost.

When you are having a problem, such as (Yes) vermin or bugs or cold floors, or if your nose is tickled by a new musty, moldy, or other foul odor, this could indicate a problem with the crawl space. There are also hidden issues with crawl spaces, such as rotting wood and wet or shredded insulation. Even if you have no obvious indications of a problem in the crawl space, it is wise to inspect it now and then, especially after a heavy storm or if you notice ants or termites around your foundation. Usually, when you call an exterminator or other professional, depending on the layout of your home, they will likely ask for access to the crawl space.

With 20 years of experience in construction and remodeling projects, you can have the confidence that Stoney Creek Contracting will get the job done. We do projects large and small, from repairs and installations to complete house remodels.
We at Stoney Creek Contracting pride ourselves in quality residential remodeling projects and construction. Licensed and insured, we go the extra mile to maintain a clean work area and provide courteous service. Call us at 610-927-7313 for your free estimate for a basement, kitchen, bathroom, or flooring project. We also do windows, siding, and other exterior projects. You can also submit a contact request here.
Don't play "Out of sight, out of mind" with your crawl space!