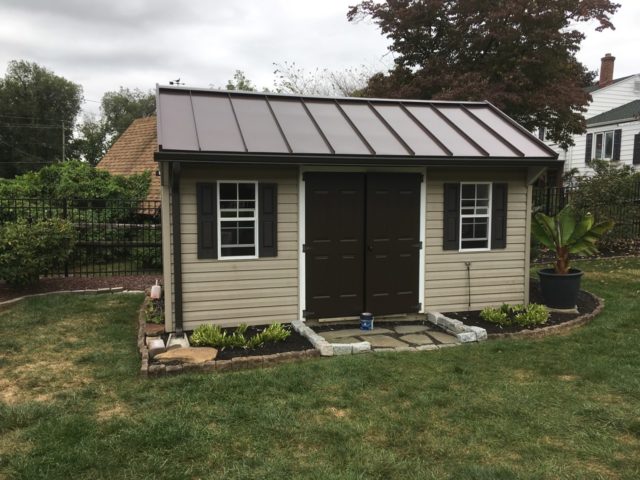 Herbert Hoover may have been a little optimistic when he promised, "A chicken in every pot and a car in every garage," but the general idea made sense — if you liked chicken and had room in your garage for a car.

Clutter abhors a vacuum and seems to fill up all the available space. Garages often turn into storage spaces for everything but cars. They are good places to store bicycles, lawnmowers, and wheelbarrows, but they can also collect things that are too . . . gross . . . to keep in the house. Where can we put all that … stuff?

As spring comes to comfort the Berks County / Reading area, we are getting outside more, and planning for all those good-weather chores. There are lawns to mow, holes to fill, tools to organize, and exercise and sports equipment to freshen up. There may also be a lot of unnecessary and unwanted — to put it nicely — junk decorating the shelves and floors of the house and garage. After some spring house cleaning and plans to purchase more tools and such, you may find that you still need somewhere to store everything. Sheds to the rescue!

You may be so used to keeping the car outside all year that the thought of it actually residing in the garage may seem strange. As one of your biggest investments, it deserves to be protected. Perhaps you have a shed or other storage area and do not have a garage. No matter your situation, you can turn to Matthew Herzog and his team of specialists at Stoney Creek Contracting in Reading, PA. for your building and renovation needs.

Matthew's experience equips him to guide homeowners in the selection of materials and components, as well as approaches that work within your budget. He and his crew can review your circumstances and help design the perfect shed, garage, or other storage space for you.

If your space or other structure is in need of repairs because of water damage or neglect, Matthew is the one to call, whether the job is large or small. So, store his number on your phone and give him a call!

With over 20 years of experience in construction and remodeling projects, you can have the confidence that Stoney Creek Contracting will get the job done. We do projects large and small, from repairs and installations to complete house remodels.
We at Stoney Creek Contracting pride ourselves in quality residential remodeling projects and construction. Licensed and insured, we go the extra mile to maintain a clean work area and provide courteous service. Call us at 610-927-7313 for your free estimate for a basement, kitchen, bathroom, or flooring project. We also do windows, siding, and other exterior projects. You can also submit a contact request here.