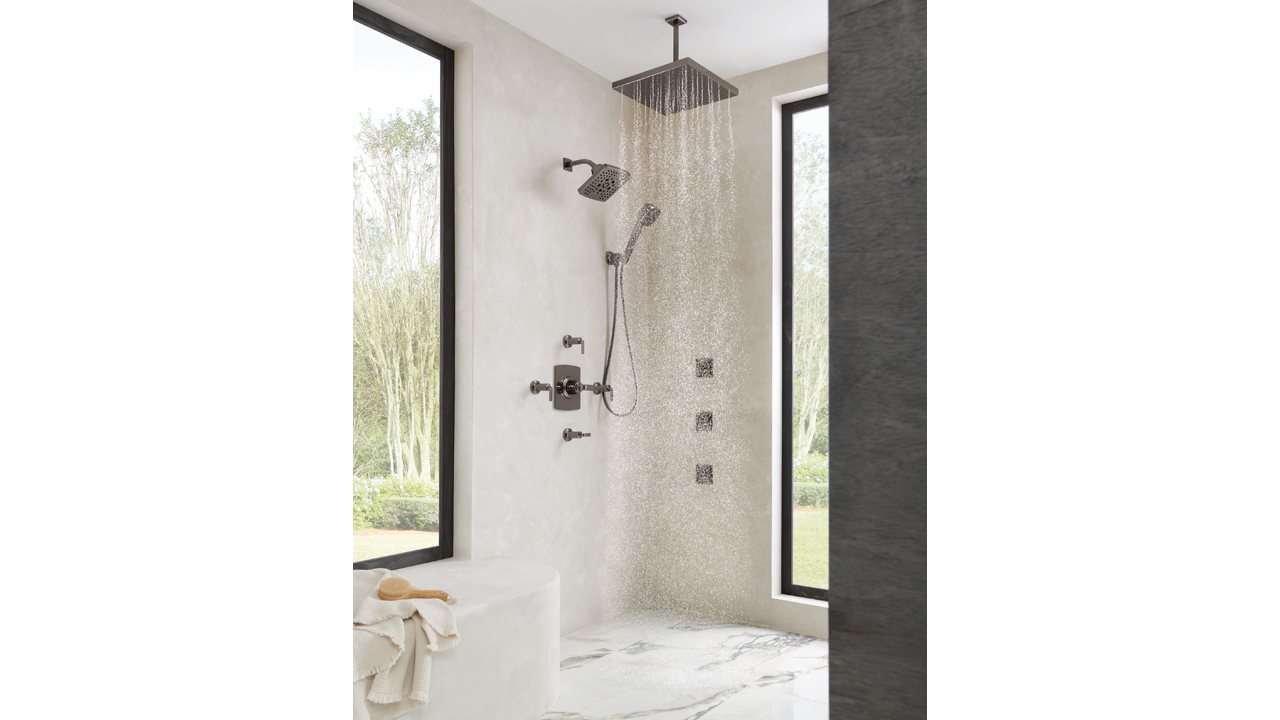 (BPT) – The bathroom has become a multi-functional space — a place to create daily experiences that cleanse, relax and rejuvenate. Designing this space provides the opportunity to select features and fixtures that bring both art and function to the bathroom. The shower, especially one with a unique water flow, can act as a living art piece, creating an immersive experience that feels as amazing as it looks.
Indulgent Shower Experience
To maximize the shower experience, incorporate technology that brings water to life and transforms a shower from a mundane task to a serene and reviving part of the day. Carefully look at every feature when selecting a shower head — from the spray to the coverage. Each element should come together to create a shower worth looking forward to each day.
The new 14" Raincan Shower Head from the Brizo® Essential™ Shower Series features an H20kinetic® Drenching Spray that utilizes water-sculpting chips to create thousands of large droplets that pour down in alternating patterns. The shower head provides rich volume and full coverage that replicates water found in a tropical rainforest, thus creating a uniquely recharging shower experience.
Refined Luxury
To elevate the bath space and achieve a look and sense of heightened relaxation, mix textures, unexpected tile patterns, and earthy colors. Select fixtures with simple, clean details that bring the space together and create a cohesive, lavish design, to provoke a feeling of serenity. Look to shapes that complement the space and bring a sense of beauty to function. The 14" Raincan Shower Head is available in a Linear Round style, bringing new refinement to timeless simplicity. It is also available in a Linear Square style that elevates the shower through striking clean lines and geometric angles. Either shape creates a breathtaking statement that can live beautifully in any bathroom.
Conscientious Style
Make design choices that are as sustainable as they are aesthetically beautiful to create a bath environment that is both functional and intentional. Select fixtures with water-saving features and high-functioning, eco-friendly products that merge technology with design. Use H20kinetic® Technology to control the shape, velocity, and thermal dynamics of water, creating the luxurious feeling of a high-flow shower, using only a fraction of the water. An ideal shower experience is one that is both relaxing and kind to the environment — the epitome of luxury in the bathroom.
Matthew Hertzog and his crew can help you select the right materials and components that work within your budget to create your perfect shower experience.
With 20 years of experience in construction and remodeling projects, you can have confidence that Stoney Creek Contracting will get the job done. We do projects large and small, from repairs and installations to complete house remodels.
We at Stoney Creek Contracting pride ourselves on quality residential remodeling projects and construction. Licensed and insured, we go the extra mile to maintain a clean work area and provide courteous service. Call us at 610-927-7313 for your free estimate for a basement, kitchen, bathroom, or flooring project. We also do windows, siding, and other exterior projects. You can submit a contact request here.