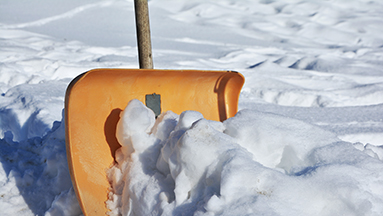 The Reading / Berks County area has been pelted by snow this winter. With snow comes snow shovels and snow blowers. We need to clear our driveways, walkways, and sidewalks, but there is one critical area we may not think about: our foundation.

With the possible exception of stray cats, we don't normally walk along the foundation of our home, so why would we clear it? When the snow eventually melts, water can seep into cracks and crevices of the foundation. While wet, this water can find its way into the home, bringing with it dampness, water damage, and the possibility of mold and mildew. If the moisture remains in the cracks when the next freeze comes, it will expand as ice, and make the cracks wider, weakening the foundation and making even more room for water to seep in.

"I have no visible cracks in my foundation" you may say. As melting water saturates the ground around the foundation, the pressure of the water, especially if it freezes, can push against foundation material, causing it to bow or crack.

Even if the snowfall has not quite reached the perimeter of your house, melting snow can still puddle nearby and find its way toward the house. Another source of unwanted water is your roof. Of course, the snow on your roof melts, and the water should run into the gutters. At times, snow and ice build up to the point where water from rain or melting snow can overshoot the gutters and fall close to the foundation. Gutters themselves may be so full of snow that it hangs over the side, creating those lovely icicles that melt and drip down.

Shoveling snow can be an arduous task, and you may want to just move the snow out of the way, but be careful where you put it. Don't toss it against the house, and be careful about landscape walls, too. They can buckle and crack from the weight of the snow and mud and freezing water.

If you do find water in your basement, don't ignore it. Call the experts at Stoney Creek to take a look and evaluate the situation.

With 20 years of experience in construction and remodeling projects, you can have the confidence that Stoney Creek Contracting will get the job done. We do projects large and small, from repairs and installations to complete house remodels.

We at Stoney Creek Contracting pride ourselves in quality residential remodeling projects and construction. Licensed and insured, we go the extra mile to maintain a clean work area and provide courteous service. Call us at 610-927-7313 for your free estimate for a basement, kitchen, bathroom, or flooring project. We also do windows, siding, and other exterior projects. You can also submit a contact request here.